DISABLED PARKING PERMIT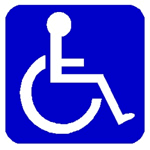 Gayle M. Diffendorf
Town Clerk
(607) 775-1966
Instructions for Completion of Application
Read instructions and then print form.

Legibility and Completeness:
The Parking Permit Application form has three parts:
Part I To be completed by the applicant.
Part II To be completed and signed by the certifying physician.
Part III "For Official use only".
It is the applicant's responsibility to ensure that Parts I and II are complete and legible. Incomplete or illegible applications will be returned without approval.
You must provide your Driver's License in order to receive a Parking Permit. If you do not have a Driver's or Non-Driver's license, contact the Town Clerk's Office at 775-1966 for further information.
Filing of Application:
Completed applications may be brought to the Town Clerk's Office at 70 Crescent Dr., Kirkwood, New York.
If you need additional information, please call 775-1966.
Adobe Acrobat Reader is required to view and download PDF documents on this website. If you do not have Acrobat Reader installed on your computer, you can click on the "Get Acrobat Reader" icon above to download Acrobat Reader free from Adobe.
[ Back ]