TOWN OF KIRKWOOD
70 CRESCENT DRIVE
KIRKWOOD, NY 13795
TEL (607) 775-1370
LOCAL WEATHER
MAPQUEST
DRIVING DIRECTIONS

Town of Kirkwood Water & Sewer Department
P.O. Box 62
Crescent Drive
Kirkwood, NY 13795
Phone: 775-1919
Hours of Operation
Monday – Friday
6:30 AM – 3:00 PM
Alan Glover
Water/Wastewater Maintenance Crew Chief
Cell Phone: 221-3045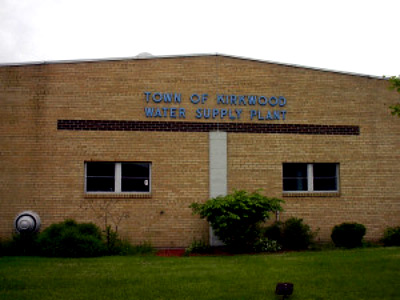 Overview
The water and sewer department has 2 full time employees who are on call 7 days a week, 24 hours a day for any water or sewer emergencies that might occur in the Town of Kirkwood. The Town has four water tanks that store 2.75 million gallons of water. The Water and Sewer dept. are controlled with S.C.A.D.A. Technology. Tank sites are secured with fencing, as well as a Time Warner Security system in the building.
The department is responsible for duties such as flushing hydrants, final meter readings to closeout property sales, installation and maintenance of water meters, water and sewer line inspections, water and sewer problems, and issuing of water and sewer permits. The department also performs three meter readings that are done in December, April and August.
Water billings are done on January 2nd, May 1st and September 1st. For more information please contact the Water & Sewer Department at 775-1919.
Please do not fill your swimming pool until you notify the Town of Kirkwood Water Department at 607-775-1919.
[ Back ]